Show us your Pets! December De-Stress 2020
Thursday, December 3, 2020
2:00 PM – 3:00 PM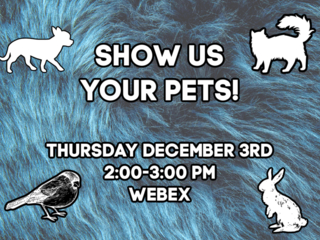 "Stressed about finals? Take an hour to de-stress with us! Inspired by the joy of seeing someone's pet pop up on a video call, this event is an opportunity to show off your pets and connect with other UMBC students. Feel free to bring a photo or even a stuffed animal if you don't have a pet of your own. 
This event is the first in a series of 3 virtual December De-Stress events hosted by the UMBC Counseling Center. Keep an eye out for the next two events on Thursday, December 10 (Show Us Your Plants!) and Thursday, December 17 (Show Us Your Projects!)."

Reach out to Lily Kaufmann (she/her/hers) at lkaufman@umbc.edu for more details.